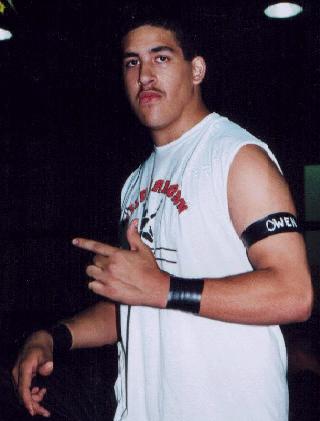 Afa Jr. The Samoan Storm
Height: 6'2
Weight: 190 lbs.
From: The Isles Of Samoa
Finisher: Storminator followed by the Peoples Headbutt





Weighing in at 190 lbs, and standing 6'2 feet tall, Afa Jr. has to be one of the most successful crusierweight throughout the independent circuit today. At the age of 14 he has accomplished so many things that people twice his age would never even dream of.
Afa Jr. is the son of the legendary Afa the Wild Samoan who is a former 2 time WWF Tag-Team Champion. With such a strong family background in wrestling, it was only a matter of time until Afa Jr. took his rightful place with the other numerous champions of Samoa.
Afa Jr. began training at the Wild Samoan Training Center in Hazleton about 4 months ago. With guidance from his father, and brothers L.A. Smooth and Samu, Afa Jr.. has soared to new heights in the Wild Samoan Training Center Youth program, designed to promote the talent of younger students between the ages of 16-18.
Recently Afa Jr.. has aligned himself with his brothers and formed what is now known at the Sons of Samoa, an alliance to end Team Dean. But Afa Jr.. mostly wrestles in singles competition taking on all challengers, crusierweight or not.
Working all over the independent circuit will do only two things, help Afa Jr.. become a Superstar just like the rest of his family members, and hurt anyone who dares to get in his way.